The Fort Bragg – Mendocino Coast Historical Society is 20 years old this year and we are having a party at the Guest House on Sunday August 25th from 3-5 PM. We will be serving punch and cake. Come & join the celebration!
______________________________________________________________________________
Save the Windows Campaign Raffle
Tickets on sale now at the Guest House Museum
& Harvest Market.
Prize list below.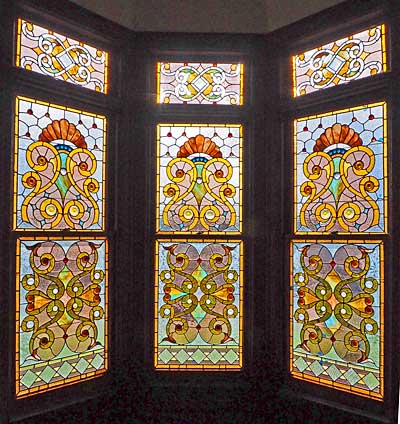 To All Those with an Interest in Local History:
Since 1892, the Guest House on Main Street in Fort Bragg has been an iconic landmark in our town. Built by lumber baron C.R. Johnson as a family home, then used over several decades as a place for the lumber company to put up guests of the mill, it has weathered various types of adversity, including multiple changes of ownership. It was donated to the City of Fort Bragg by Georgia-Pacific Corporation in 1985.
Twenty years ago, the Fort Bragg-Mendocino Coast Historical Society was formed to assist the City of Fort Bragg in maintaining and operating the Guest House, and keeping its doors open to the public as a museum to educate visitors about our region's past. This relationship between the city and the historical society has ensured that this magnificent home, so central to the history of Fort Bragg, continues to anchor the town and provide historical perspective to local residents, schoolchildren, and tourists.
And this is where YOU come in! We are asking for your help as we undertake the preservation and protection of the beautiful stained glass windows which are such an important feature of the Guest House. The windows are original to the house, and miraculously survived the 1906 earthquake unscathed, though much of the town was destroyed. The 127-year-old windows need to be repaired to stop them from leaking. The Historical Society commissioned a survey and condition report of the windows (completed in 2017), so we know what we're up against!
This is why we are urging you to join our efforts to preserve this important feature of our local history, by participating in our raffle. Our goal is to raise $5,000 towards the preservation of the windows by the end of September, 2019. With the help of local merchants, artists, and service providers, we have assembled a very compelling list of raffle prizes for you.
Tickets are $5 each, or five for $20, and all proceeds benefit our Save the Windows Campaign. They will be available for purchase at the Guest House Museum, Harvest Market & from FB-MCHS board members at various locations during August & September.

The drawing for prizes will take place at the Guest House Museum on September 28th, and you need not be present to win.
RAFFLE PRIZES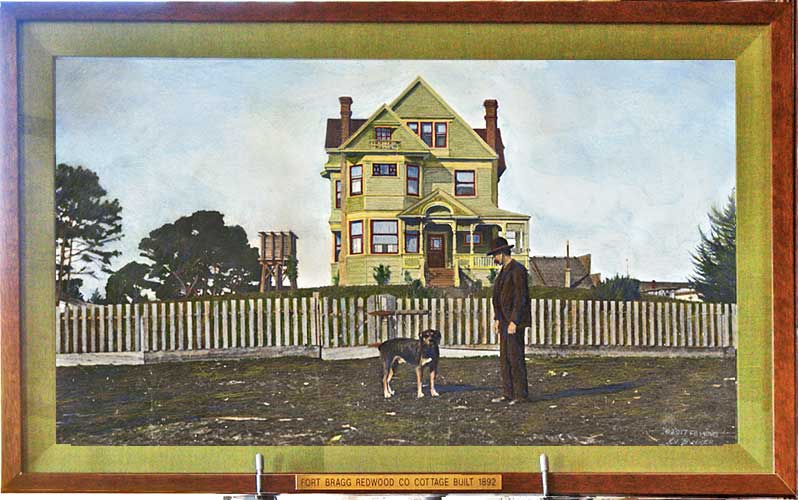 Framed photograph of the Guest House (1893) hand-tinted by Kevin Bunker
A Day on Big River for 2 people in a redwood outrigger – Catch-A-Canoe ($100 value)
Symphony of the Redwoods Season tickets (value $120)
18 holes of golf (value $120) + 15% discounted lodging from Little River Inn
One free night (value $200) free trailer rental from Luv-2-Camp (2 nights required)
Dinner and show at the Sequoia Room for 2 ($100 value)
Meal at the Brewery Taproom (up to $50) (North Coast Brewing) – two to be raffled
Dinner for two at Lee's Chinese Restaurant ($50 value)
Fort Bragg History Walk for group up to 10 people ($50 value)
Sunset Tour of the Guest House Museum (includes third floor) for up to 10 (2 tours) ($50 value)
Selection of local history books from the Guest House Bookstore: A Home Away from Home, History of the Guest House, Mendocino and the Movies, Images of Fort Bragg, Glass Beach, James Dean in Mendocino, Glen Blair, Picolotti's: My Life on the Ranch by Big River (Value $135)
One year membership to the Fort Bragg-Mendocino Coast Historical Society for an individual or a couple (total of 5 memberships to be raffled, $20-$30 value)
Salt-fired ceramic vase by Christine Schomer ($65 value)
Ceramic burnished saggar-fired bottle by Eleanor Moss Rock ($75 value)
Ceramic burnished saggar fired organic form by Eleanor Moss Rock ($50 value)
Framed ceramic "Tiger Tile" by Judith Edwards ($45 value)
Sunbonnet Crib Quilt by Kathie Sarin ($150 value)
Hand crocheted tablecloth from Ruth Sparks
Photo of Glass Beach before it was Glass Beach by Sylvia Bartley, 10" x 14" framed ($100 value)
"Ten Mile River Sands," 12"x 16" framed oil on canvas, by artist Cynthia Crocker Scott ($350 value)
Handcrafted, 4" beaded pine needle basket with lid by Peggy Templer ($50 value)
Watercolor painting by artist Suzi Long
Glass jellyfish decorative item from Marta MacKenzie ($25 value)
Tote from Rubaiyat Beads ($15 value)
2 necklaces from Rubaiyat Beads ($20 value)
Butterfly garland from Rubaiyat Beads ($8 value)
Prayer flag garland from Rubaiyat Beads ($12 value)
Scarf from Rubaiyat Beads ($15 value)
Haircut at The Mens Room (value $25) – 2 to be raffled
3 Pair of women's socks Pippi's Longstockings (value $23)
Historic Local Music Triple CD set: COLORS Live in 1975
$45 gift certificate from David's Deli
$25 gift certificate from Windsong
$25 gift certificate from The Quarry
$15 gift certificate from The Bookstore & Vinyl Cafe
$25 gift certificate from Colombi's Market
$85 Household Membership gift certificate from Mendocino Coast Botanical Gardens
$100 gift card from Harvest Market
2 gift certificates from Well House West, value $ 25 each
2 bottles: Premium Tempranillo Port and Barbera Port, Value: $60 for the pair (winner must be 21+ years old)
$40 gift certificate from Lost Coast Found
Two $27 gift certificates from Piaci Pub & Pizzaria
$50 gift certificate from the Purple Rose
$ 15 prepaid gift card from Zappa's Coffee
Replica of the Guest House stained glass windows by Braggadoon
$50 gift card from the Mendo Mill
$20 gift certificate from Cafe One
Box of Honey Flight (various types of honey) and teas from Interiors. ($100 value)
$99.90 Gift Card from the Skunk Train
If you would like to donate a prize for this raffle, please contact us. peggytempler@yahoo.com
We hope to hear from you soon.

Thank you!
Sincerely,
FB-MCHS Board of Directors