Ask an Historian, January 27, 2024, 2 -4 pm.
Bring your questions, your photographs and artifacts and our well-versed historians will help shed light on them.
---
---
The Guest House Museum is open to the public.
Hours:
Nov – May: Thurs – Sun, 11 am – 2 pm
June – Oct: Sat & Sun, 10 am – 4 pm;
Mon, 1 – 3 pm; Tues – Fri, 11 am – 2 pm
---
For June 2022, as part of the annual Quilt Exhibits all around Fort Bragg, on display was
The City of Fort Bragg Centennial quilt 1889 – 1989
Ocean Wave quilters, quilt
One from the Fort Bragg Volunteers Fire Dept.
One that belonged to David Maki's mother – Wedding Ring Pattern
ON SUNDAY, FEBRUARY 27, 2022, THERE WAS AN OPEN HOUSE CELEBRATING THE RE-INSTALLATION OF THE STAINED GLASS WINDOWS THAT WAS DONE FEB 25 & 26, 2022
Below are a few pictures that were taken while the work was being done.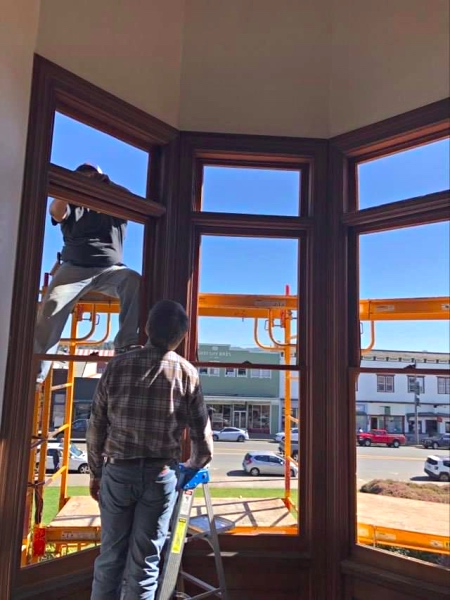 ---
____________________________________________________________________
Save the Windows Campaign Raffle that raised more than $8000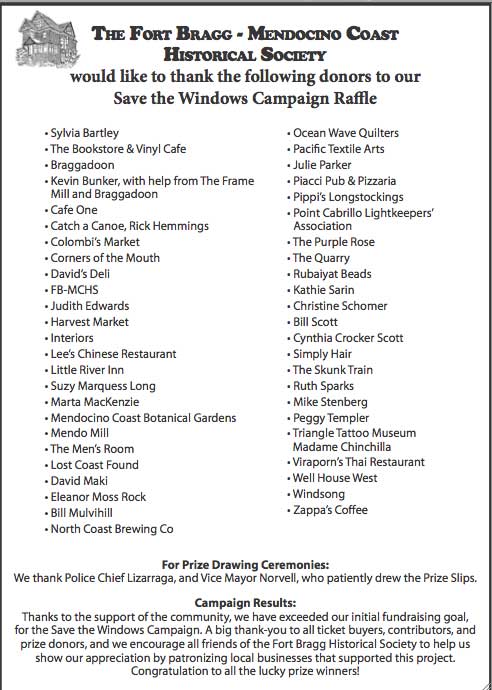 The drawing for prizes was held September 28th 2019 at 3 pm.
Thank you to all who donated prizes, contributed & purchased tickets… you helped raise more than $8000!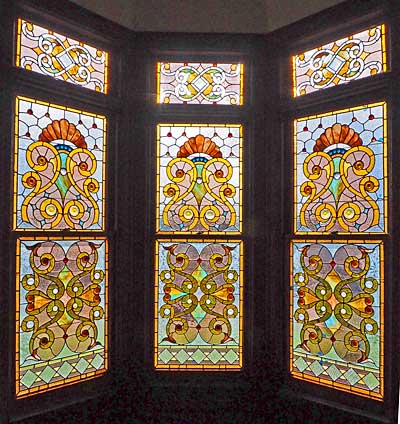 To All Those with an Interest in Local History:
Since 1892, the Guest House on Main Street in Fort Bragg has been an iconic landmark in our town. Built by lumber baron C.R. Johnson as a family home, then used over several decades as a place for the lumber company to put up guests of the mill, it has weathered various types of adversity… It was donated to the City of Fort Bragg by Georgia-Pacific Corporation in 1985.
Twenty years ago, the Fort Bragg-Mendocino Coast Historical Society was formed to assist the City of Fort Bragg in maintaining and operating the Guest House, and keeping its doors open to the public as a museum to educate visitors about our region's past. This relationship between the city and the historical society has ensured that this magnificent home, so central to the history of Fort Bragg, continues to anchor the town and provide historical perspective to local residents, schoolchildren, and tourists.
The windows are original to the house, and miraculously survived the 1906 earthquake unscathed, though much of the town was destroyed. The Historical Society commissioned a survey and condition report of the windows. (completed in 2017)
We have raised more than $8,000 towards the preservation of the windows. With the help of local merchants, artists, and service providers, we had some great raffle prizes.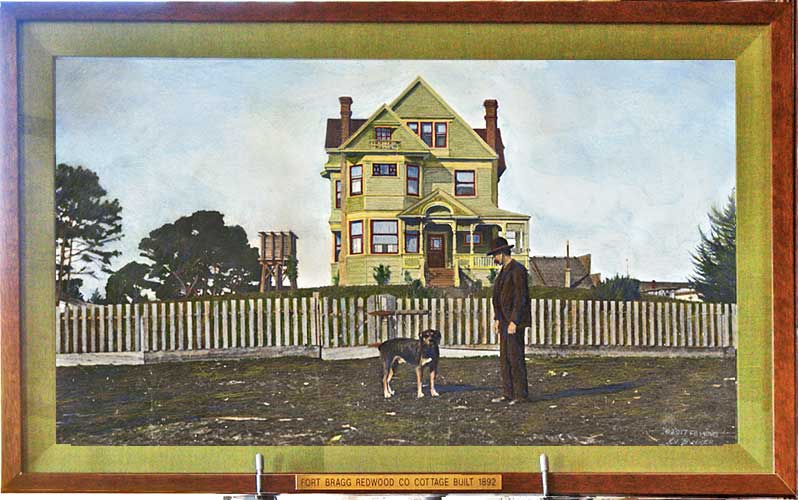 Framed photograph of the Guest House (1893) hand-tinted by Kevin Bunker