Thank you to the Community Foundation of Mendocino County for the Arts & Culture Program grant received by FB-MCHS for display & exhibit enhancement.
Here is a link to their website:

THANK YOU Community Foundation of Mendocino County
---
Old Bottles and a Replica of Fort Bragg Now on Exhibit at The Guest House Museum
A new display at the Guest House Museum on Main Street in Fort Bragg features over 100 vintage bottles, many from turn-of-the-century local businesses. The Fort Bragg Drug Store, Mendocino Hospital & Drug Company, Standard Bottling Works, and the Pesola and Dornan Hardware store are all included.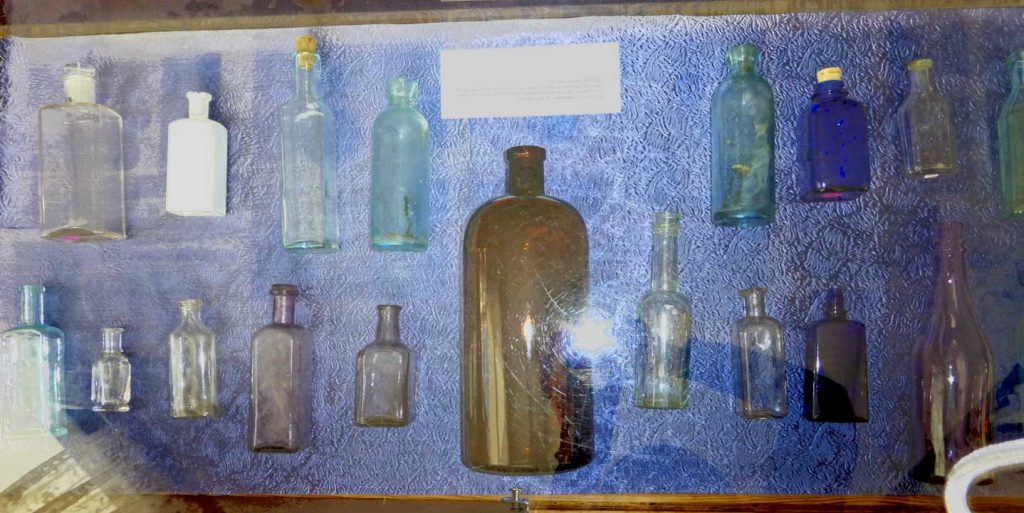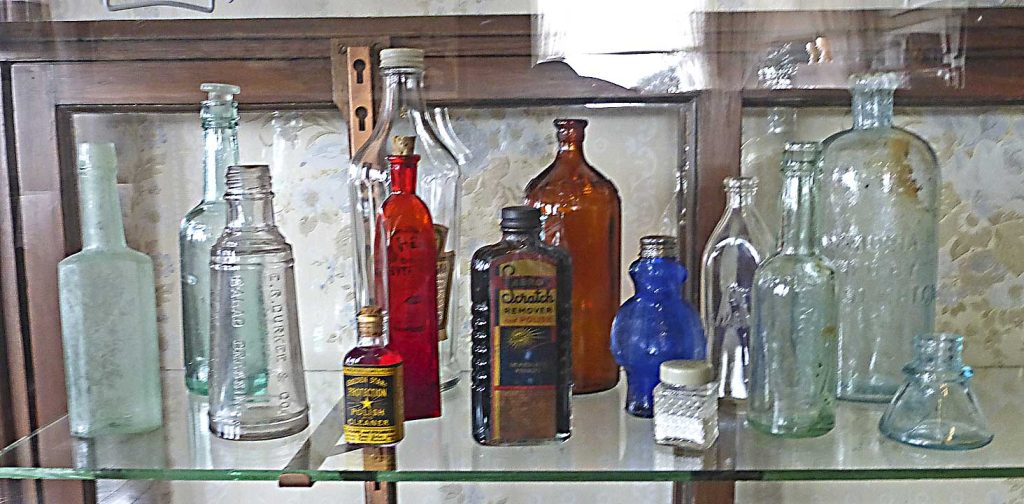 Bottles are displayed by category: medicine bottles, beer bottles, whiskey and other spirits bottles, soda bottles, and household products bottles.
Also included in the display are a number of bottles belonging to the City of Fort Bragg which were discovered in 1990 in a secret room in the Old Coast Hotel, used during Prohibition.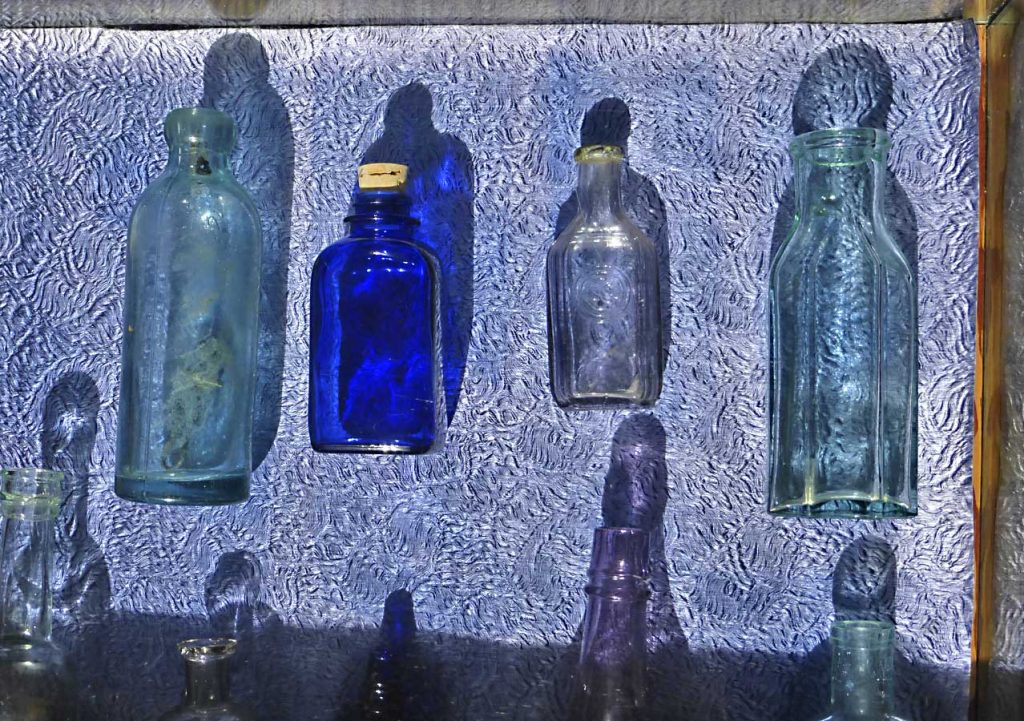 A final category of bottles is called Unknowns – vintage bottles without markings whose actual age and use are unknown. Visitors are encouraged to come by and let the docents at the Guest House know if they can identify the bottles.
Also, back by popular demand, the Historical Society's complete model of the original 1857 fort, from which the city of Fort Bragg derives its name, is on display in the dining room at the Museum. New maps showing where the old fort buildings were located in relation to the current configuration of the town are also on display.
The Guest House Museum is located at 343 No. Main St in Fort Bragg. Hours of operation are Tuesday through Friday, 11 – 2, Saturday 10 – 4, and Sunday 11 -2.
---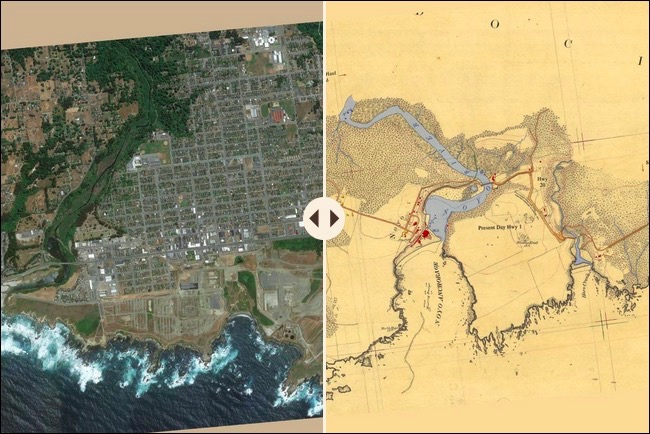 (click title or image to go to the map)
Rick Hemmings has created a page where you can compare a 2023 Satellite image with an 1873 Point Cabrillo to Pudding Creek map. Best viewed on a large screen.
See more of Rick's work at: https://hubsandroutes.net/
---
Dedicated to preserving the rich music heritage of the Mendocino Coast…
Dirty Legs, Judy Mayhan, Gene Parsons, Lenny Laks, Charlie Remer & the Hansen Rait Band music has been uploaded so far.
More to come…
Contact bill@artsmendocino.org with comments & questions. Enjoy!
---
---

THE FORT BRAGG-MENDOCINO COAST HISTORICAL SOCIETY'S
DENISE S. STENBERG MEMORIAL SCHOLARSHIP
Download the Application (PDF)
THE DENISE STENBERG MEMORIAL SCHOLARSHIP GRANT is offered once a year, to one student, by the Fort Bragg – Mendocino Coast Historical Society, in honor of the late Denise Stenberg. In keeping with her interest in and contribution to local history, this scholarship is awarded to a student who evidences a strong interest in history as a field of study.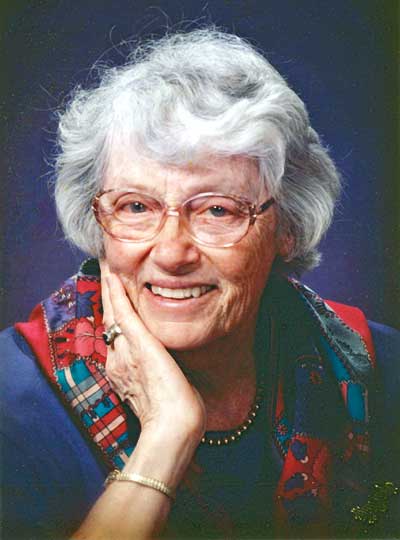 DENISE STENBERG (1923 – 2017) was a well known and beloved member of the Fort Bragg community. She taught in local schools for over 50 years, including 35 years at Fort Bragg High School and another 15 years at College of the Redwoods. She taught primarily business classes, but was passionately involved with the preservation of local history. She was proud of her family's local heritage, her mother having been born in the logging town of Glen Blair. In 2009, she published Glen Blair: The End of the Line, a compelling and well-researched account of the rise and fall of that small town. Denise was involved in a number of local organizations, including two directly related to local history, the Native Daughters of the Golden West and the Fort Bragg-Mendocino Coast Historical Society. She managed the Guest House Museum for the historical society for many years, and thoroughly enjoyed being a museum docent, welcoming people to our coast and explaining the local history she knew so well.
PURPOSE OF THE DENISE STENBERG SCHOLARSHIP: to carry on the legacy of Denise Stenberg and honor her love of history by providing a scholarship to assist a local student with an interest in history with educational expenses.
WHO IS ELIGIBLE: Mendocino Coast high school seniors or students at the coast branch of Mendocino Community College who are taking history classes or have an interest in pursuing history as an educational goal.
WHAT ARE THE REQUIREMENTS: High school students must be seniors, attend school on the Mendocino Coast, have a GPA of at least 3.0 and evidence an interest in history as an academic subject. Mendocino College students must have a GPA of at least 3.0, be enrolled at least half-time and be pursuing history or a related discipline as a major or minor. Proof of enrollment in classes will be required prior to release of scholarship funds. For high school students, evidence of an interest in history (local or global) can be determined from the student's application essay as well as supporting testimony from a school teacher or counselor. In addition, evidence of an interest in history can also be demonstrated by volunteering 10 hours with the Fort Bragg-Mendocino Coast Historical Society, serving as a docent at the Guest House Museum in Fort Bragg, assisting with maintenance of the Society's archives, as well as other projects.
HOW TO APPLY: Submit a letter to the Scholarship Committee of the Fort Bragg – Mendocino Coast Historical Society (P.O. Box 71, Fort Bragg CA 95437) and include pertinent information: name, grade level, school, GPA, contact information, and a statement of any length regarding your interest in history as a subject matter. Include a letter of recommendation from a teacher, counselor, or community connection. Alternately, the Historical Society will accept a direct recommendation for this scholarship from a teacher or counselor.
WHEN TO APPLY: For next year, applications must be received by March 31, 2024.
WHEN IS THIS SCHOLARSHIP AWARDED? This scholarship will be awarded at or near graduation day for your school.
HOW MUCH IS THIS SCHOLARSHIP? The award is for $500.
WHO DETERMINES WHO THE RECIPIENT WILL BE? Board members of the Fort Bragg-Mendocino Coast Historical Society, serving on the board's Scholarship Committee, will make the determination.
WHO CAN I CONTACT IF I HAVE QUESTIONS REGARDING THIS SCHOLARSHIP? Write to FB-MCHS, P.O. Box 71, Fort Bragg, CA 95437; phone us at 707-409-4970; or email us at archives@fortbragghistory.org
DONATIONS: The Historical Society is actively soliciting donations to the Denise S. Stenberg Scholarship fund in any amounts, large or small. Direct contributions via credit or debit card may be made via the Society's website:
www.fortbragghistory.org (Join or Donate page).
Alternately, mail donations to: Fort Bragg-Mendocino Coast Historical Society, P.O. Box 71, Fort Bragg, CA 95437 and specify that the donation is to go to the scholarship fund. Thank you!
---

---
---
---
---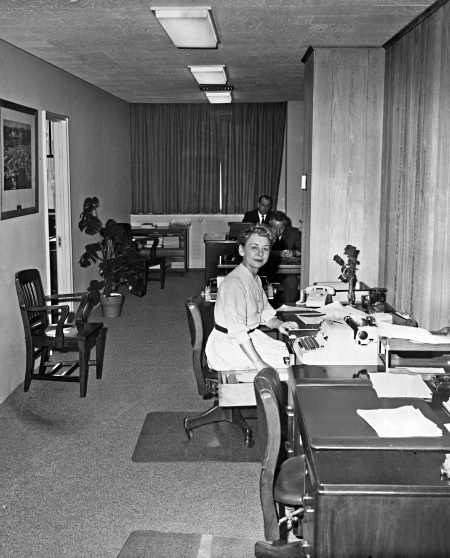 A HISTORY OF TYPEWRITERS: NEW EXHIBIT OPENS AT GUEST HOUSE MUSEUM IN FORT BRAGG
Typewriters revolutionized the way business was conducted in America, and ushered in a whole new world of personal communication that endured for over a hundred years. Many features of modern computers had their origin in the typewriter, including the mysteriously enduring Qwerty keyboard. The Fort Bragg-Mendocino Coast Historical Society is pleased to offer a display of vintage typewriters at the Guest House Museum, opening on September 10th and continuing into December. Along with the typewriters will be personal stories from the typewriters' owners, and also a display of the many accessories that went along with typewriters. Do you remember Ko-Rec-Type, carbon paper and hard rubber type erasers? Stop by the Guest House Museum any Saturday between ten am and four pm for a nostalgic look back at the age of the typewriter.
The Fort Bragg-Mendocino Coast Historical Society is currently in a state of transition. Reorganization of the Society's understaffed Archives will require changes to hours, days and personnel. In the meantime, anyone with historical interests or inquiries can call 707-961-0498 to schedule an appointment, or email The Society at archives@fortbragghistory.org. Check our website at www.fortbragghistory.org or the local paper for updates to the Archives hours, as well as updated information on hours and exhibits at the Guest House Museum. The Museum is located at 343 N Main Street in Fort Bragg.
---
FB-MCHS Awards Its Second Annual 'Denise Stenberg Scholarship' Grant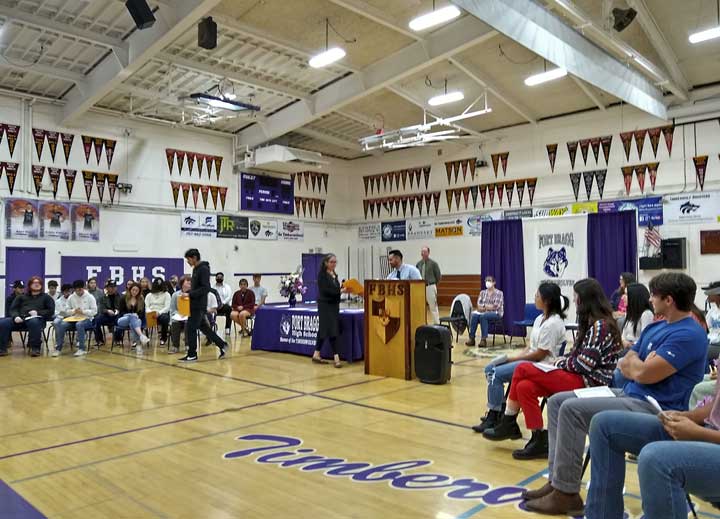 On Tuesday evening May 24, 2022, Fort Bragg High School gave its annual Student Scholarships Awards Night for the Class of 2022 in the high school gym. Society Director and Scholarship Team member Kevin Bunker again attended, this year passing to FBHS graduate Samantha Sipila our certificate for $500 to help foster her ongoing education.
Samantha will be enrolling at California State University-Chico this coming fall and plans to pursue a degree in Education. In fact, that was the one aspect of her grant application to us that stood out most: she wishes to attain her teaching credential and then return home to Fort Bragg and teach in one of our schools. This alone would have made the late Denise Stenberg especially glad, whose memory our scholarship award honors, as she spent most of her adult life teaching professionally before making the segue to becoming Director of the Guest House Museum. Ms. Sipila also told us she has a strong passion for history, especially in the local sense. We applaud that as well as her drive to succeed, something that one of her instructors underscored in a recent conversation.
Photos by Kevin Bunker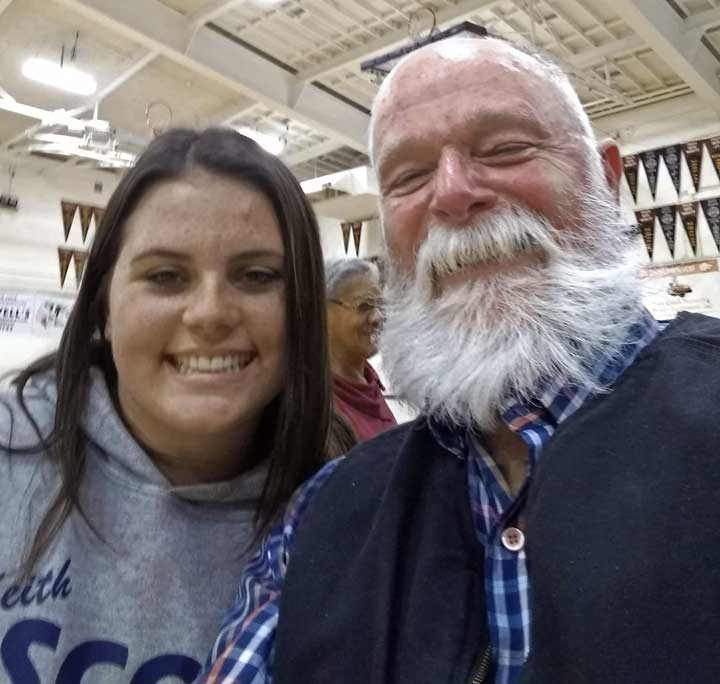 As a side note, there were at least 40 graduating students attending the awards ceremony and seats for eight more who couldn't attend this time. Of that number, twenty-two were young women, and of those seven took multiple scholarship awards home, something also observed at last year's like event. There were also a few young men gaining multiple awards and all of these were noted for terrific diligence in their studies, as well as voluntarily participating in the theatrical or visual arts or humanitarian and environmental programs beyond the school, year after year. One rather shy young man was also singled out by the school principal and applauded by the assembly for never having missed a day of school since Fourth Grade, as far back as digitized local school district records presently go.
So now, we reset the clock, so to speak, to begin the process for awarding the Denise Stenberg History Scholarship to the next single best applicant from any North Coast high school or Mendocino College-Coast Campus in 2023.
---
---
---
FB-MCHS was fortunate to receive a Covid-19 Non-Profit Relief Fund Grant from the Community Foundation of Mendocino County. It helped cover some of the ongoing expenses during this time of little income when the museum was closed.
Here is a link to their website:

THANK YOU Community Foundation of Mendocino County!!
______________________________________________________________________________________________________________
2021 Denise Stenberg Scholarship award recipient, Noemi Hernandez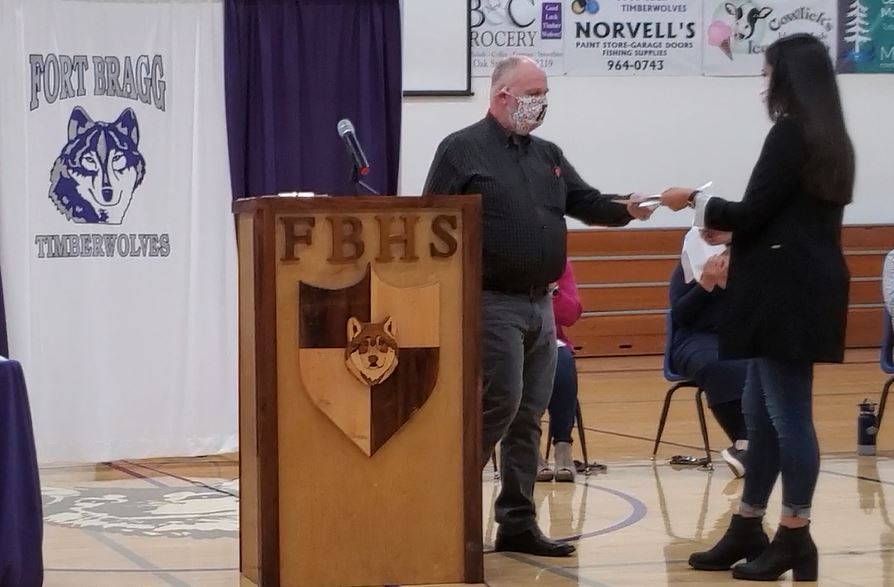 On May 25, 2021, FB-MCHS Director Kevin V. Bunker presented the first $500 Denise Stenberg Memorial Scholarship to Fort Bragg High School senior Noemi Hernandez. We look forward to assisting future students interested in studying history. If you would like to donate to the scholarship fund, you may either donate online on our website, or mail a check to FB-MCHS, P.O. Box 71, Fort Bragg, CA 95437 (please specify the donation is to go to the scholarship fund).
---